The Show's "War of the Winter" tournament opened my eyes to a lot of up and coming players that are all hopeful to suit up for their high school varsity teams next season. Here are some of the top performers I was able to watch and was impressed with…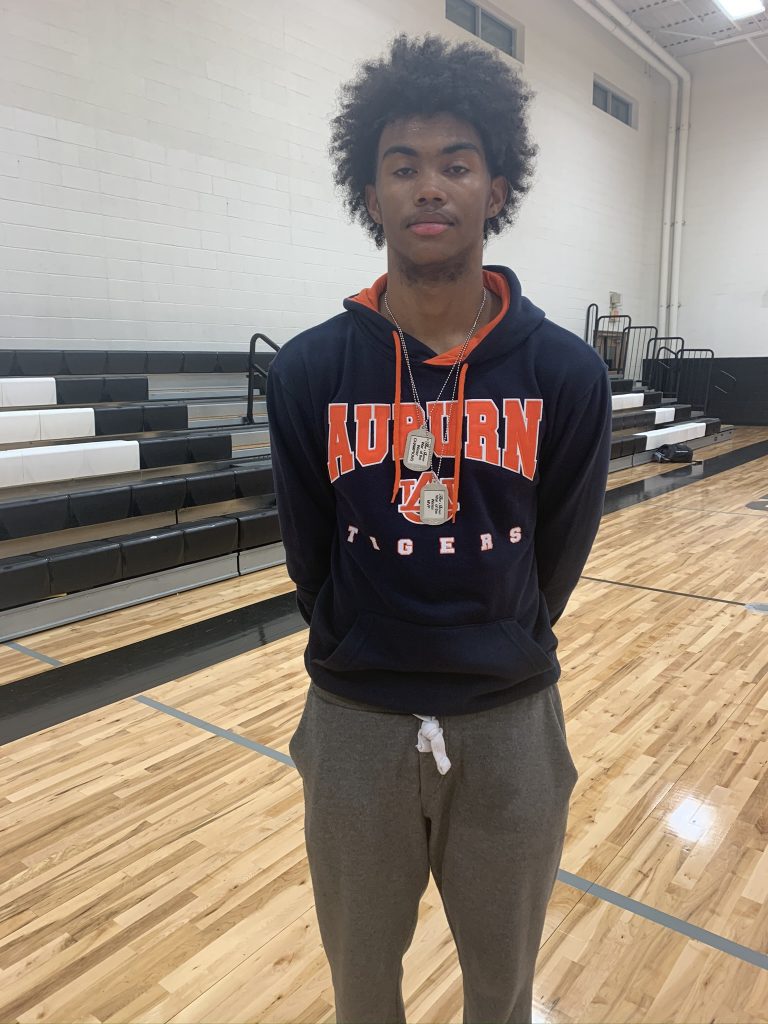 Kendre Pride (6'1"/G-W/2024/AZ Select UAA)- Pride earned MVP honors of the event behind five impressive and consistent performances. Pride effected every game in just about every facet. His ability to finish around the rim and in transition with ease makes him a real factor. He crashes the boards better than anyone I saw over the weekend and defends at a high level when engaged. Has the ability to score at all three levels. Depending on the situation he walks into at the high school level, he could be a starter from day one.
Gabe Pickens (5'7"/PG/2024/AZ Select UAA)- Pickens is flat out impressive. A true point guard that can fill it up from all three levels. His handle and first step are impressive and he seems to always be the smartest player on the floor. He is a shorter guard but his compact frame makes him so much stronger than anyone guarding him. This kid has a chance to be truly special. He is projected to be heading to play with his big brother, Nate, at Paradise Honors for Head Coach Zach Hettel.
Styles Phipps (5'10"/CG/2024/AZ Select UAA)- Phipps was balling in every game he took part in. He thrives on the defensive end, where he flies around the floor and creates so many turnover opportunities for his team. He is tough as nails and always seems to be in the right place at the right time. His outside shot is a little on the flat side but you can't argue with the percentages of how often it dumps inside the hoop. He usually is often times making the right basketball play and is the cause for many positive things happening on the floor. He will be heading to St. Mary's to play for Head Coach Damin Lopez.
Donovan Franks (6'3"/PF/2024/AZ Select UAA)- Franks was one of the better "prospects" I saw all weekend. The active power forward is a problem to deal with at this level and he looks as if he has plenty of inches left in his future. He has a mold of a big man that can take over a game, along with being the proto-type X-Factor. He can cause some real problems for opposing bigs and create mismatches on the offensive end. I am very excited to see where this kid's journey ends up at.
Christian Washington (6'0"/Wing/2024/AZ Select UAA)- This Uber-athletic wing has as much upside as anyone I saw in this event. He is already starting to get some real bounce to his jump and he moves so fluid that you could see him as an above-the-rim type of player at the next level. Add in the fact that he has the ability to knock it down from the outside and take it off the bounce, we might have us a real deal type of prospect moving forward.
Preston Lee (5'10"/PG/2024/AZ Select UAA)- Lee is one of the smarter players on the floor every time he steps on it. I was surprised a lot by his quick feet on the defensive end where he can be downright stifling at times. He often makes the right basketball play and can knock it down at a high rate from the outside. Love the way he plays the game with such a high IQ.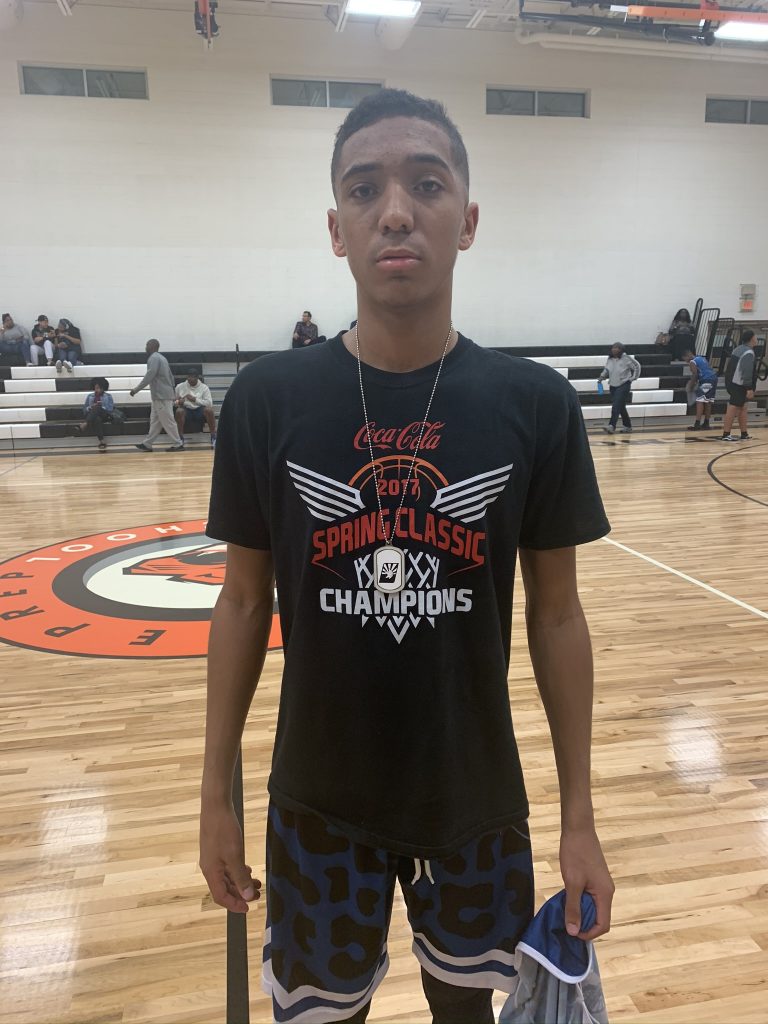 Marcus Wilson (6'0"/CG/2024/Blue Chip Nation)- Wilson was one of the true bright spots of the event. The Albuquerque-native was one of the more pure talents of the entire field. His ability to split double-teams was a sight to see and his handle is about as tight as it comes at that level. He can really stroke it from the outside and had some spurts that was straight up "show time". I would like to see more out of him on the defensive end because I have a feeling he could be one of the top two-way players on the West Coast in that age group if he does. He was a pure joy to watch.
Nazir Davis (5'10"/SG/2024/Blue Chip Nation)- Davis is a player. He can make his presence felt in so many ways in between the lines. He makes some very impressive plays with the ball in his hands and possesses some real athleticism. He has the ability to hit the outside shot but will probably need some more consistency from out there to stay at the top of the prospect list in this class. There is no doubt that he has the ability to be there. He can really cause some issue on the defensive end for opponents and is one of the more versatile kids out there. He needs to reign the game in a little bit from the mental aspect with decision-making but that comes with maturity.
AJ Seumanu (6'1"/W-F/2024/Blue Chip Nation)- Seumanu was one of the tougher customers in the building this past weekend. Played in another local event before making his way over to play in this event, so did not have his best showing on Saturday, as his team eked out two wins. However, he must have ate his wheaties on Sunday morning because he brought it in every game. While he has the ability to knock it down from deep, its his presence in the paint and his mid-range game that stands out and makes him so effective. He is a true "lunch-pale" type of player that makes you understand that his hard hat is harder than yours. Loved the way this kid played.
Luke Moga (5'10"/G/2024/Blue Chip Nation)- Moga has one of the better basketball IQ's that I saw out of this group. Great passer and a knock-down shooter in the making.. A tough and good defender that plays the passing lanes very well.
LaRon Smith (5'10"/G/2024/Blue Chip Nation)- Smith plays basketball like a free safety. He is a ball of energy that is all over the court and can affect a game in so many ways at this level. His story will probably be told by how much he grows in the end because he is more of a wing guard as of right now. But he can score from all three levels and plays at an extremely high level on the defensive end.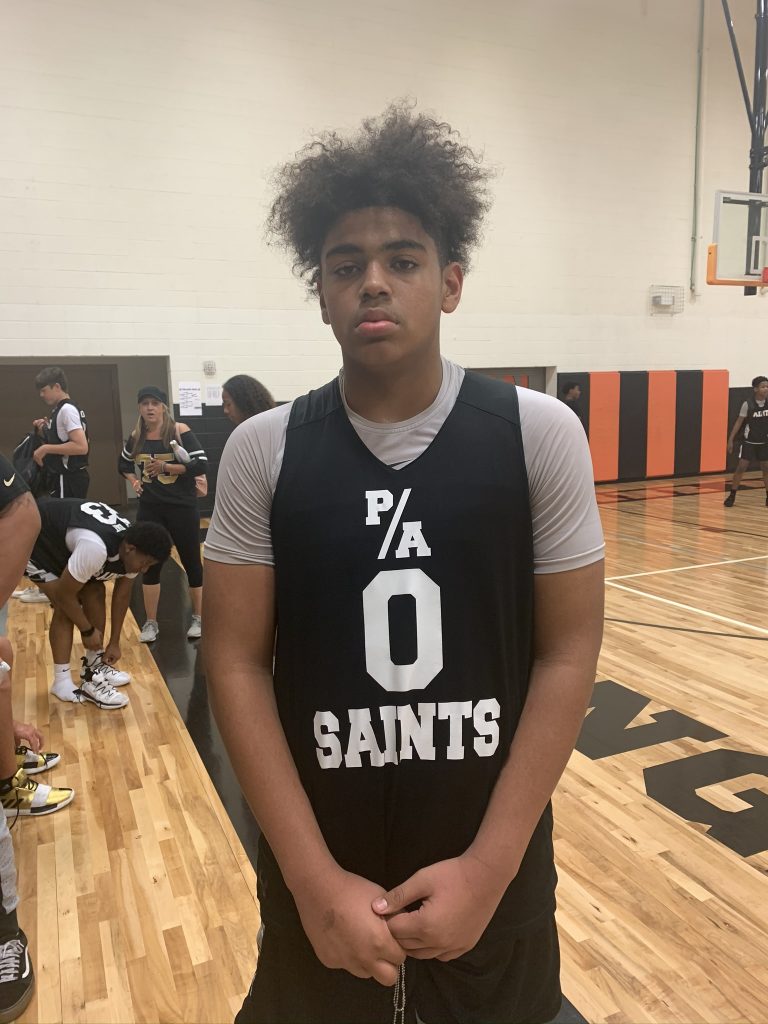 Koa Peat (6'4"/F-C/2025/AZ Saints)- Peat is a beast! It is almost unfair at times to be that size at 13 years old and move as agile as the big fella does. He is a load inside the paint and has the ability to take a defender off the dribble and knock it down from the outside. His footwork is nothing short of impressive at that size, as he looks like a Varsity offensive linemen already. His most underrated skill is probably his passing ability. If he continues to grow, he is going to be a real problem at the next level for a long time. Peat will be heading to Corona Del Sol in two years.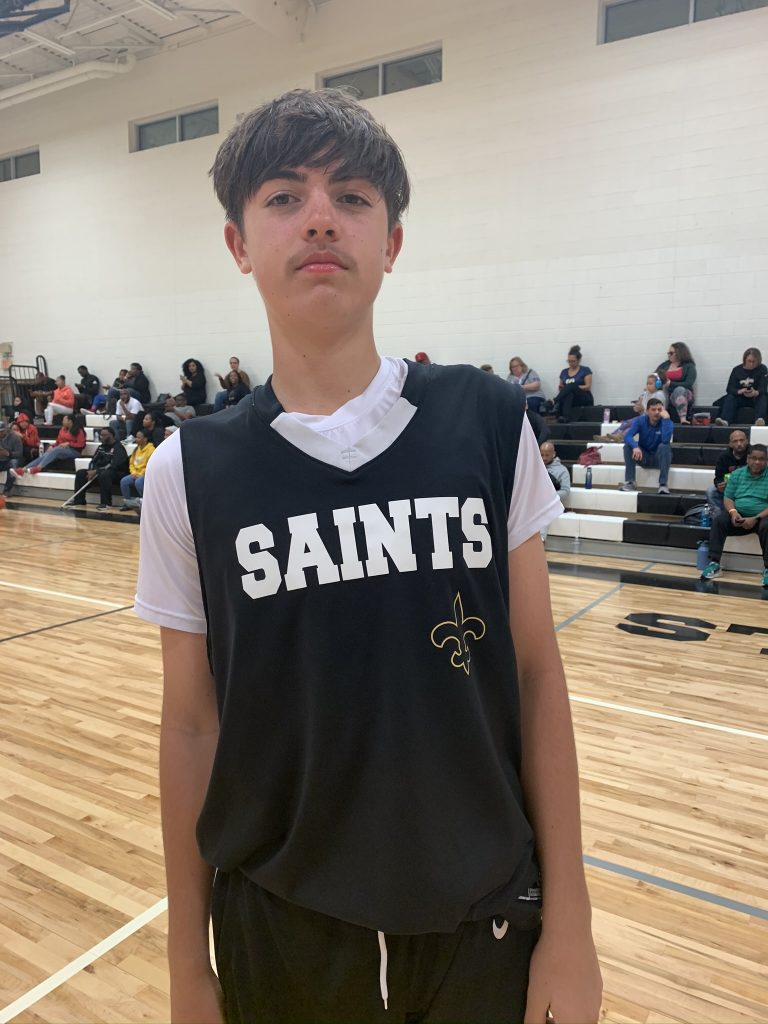 Bo Dolinsek (6'3"/G-W/2024/AZ Saints)- Dolinsek had one of the hotter hands in the event and had one game where he knocked down seven 3-pointers and made it look easy. Has some length as well and isn't afraid to get active isn't he paint on both ends of the floor. Would like to see his feet get a little quicker laterally but he is smarter enough at this level to defend multiple positions.
Donald Tinsley (5'9"/G/2024/AZ Saints)- Tinsley is a strong lead guard that I was very impressed with. Plays both ends of the floor and plays very confidently. Would like to see him mature into more of a real leader but the kid has some tools you can't teach. He is lightning quick with a nice first step and can knock it down from the outside. Absorbs contact very well in traffic.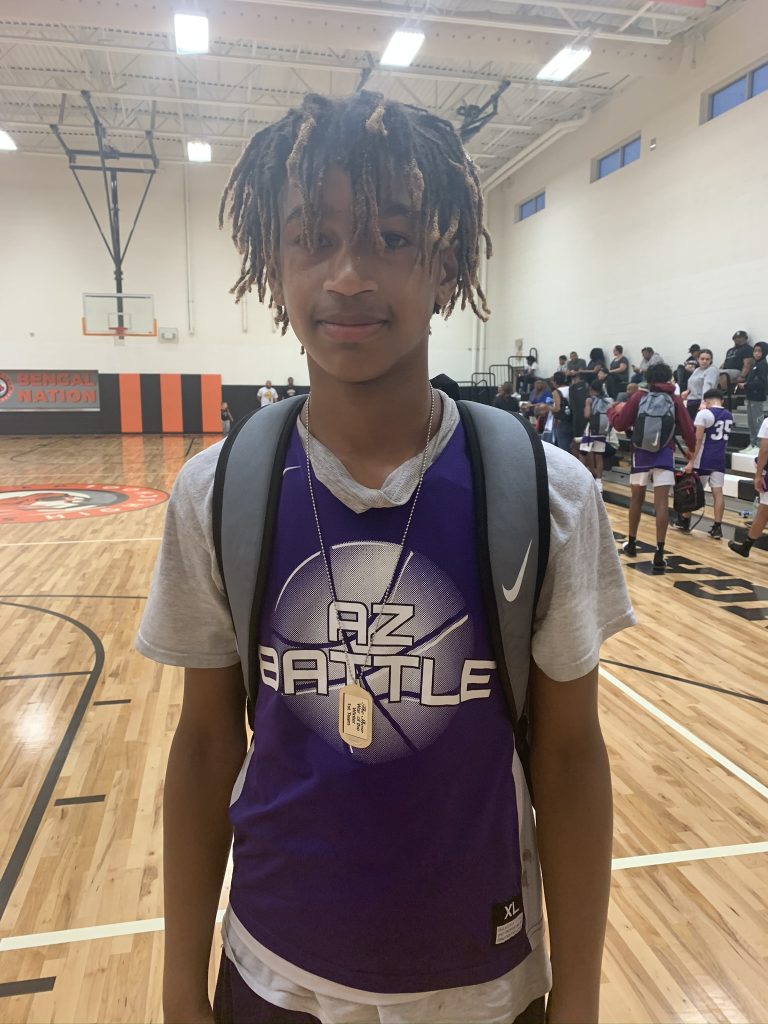 Cameron Holmes (6'1"/G-W/2025/AZ Battle)- Holmes was hands-down the best shooter in the gym all weekend long, nailing down countless long-range threes. The talented young lefty is the little brother of one of the top prospects on the West Coast, but you can only imagine that he is right around the corner for making a big name for himself. He was also the youngest player in the event at only 12 years of age still. It is scary to think of how good he could be if he stays in love with the basketball gym when they are dark and nobody is in them. He has all the intangibles. He is long, super competitive and extremely coachable. He has the ability to put it on the deck but needs to start working on his opposite hand much more to keep the higher-level defenders honest.
AJ Marsh (5'5"/PG/2024/AZ Battle)- Marsh was impressive in the match-up that mattered to me most, when the Battle squared up against the AZ Select UAA team, Marsh was at his best. He was easily the quickest player in the gym with the ball in his hands and his handles are just ridiculous. He is a single-man press break and almost impossible to stay in front of. His mid-range pull-up jumper will probably be his biggest strength on the offensive end. He is a pest of a defender on the other end and can get his team in the open floor in a hurry.
Evan Coates (6'5"/F/2024/AZ Select Black)- Coates is one of the better looking prospects that were in the gym because of his combination of size and ability to shoot it at a high clip from the outside. The kid has a clip. Even when he misses, it looks good. Also does not mind the dirty work down low, which is a breath of fresh air since most kids that have the combination of size and that skill set usually like to just live on the outside. Not Coates, he rebounds and his not afraid to hit the deck. He will need some work on his lateral quickness if he ever wants to develop into more of a wing-type of forward but he is a pleasure to watch play the game at this level. He is projected to end up at Desert Vista High next season.
Damian Castro (5'3"/PG/2025/AZ Select Black)- Castro is undersized, but man does this tough little guard play with some heart and is just flat-out effective. Played up an age group and is fearless. Really good playermaker and is one of the smartest kids on the floor anytime he is on it. Tough as nails and a leader. He will join Cameron Holmes (AZ Battle) at Millennium in that 2025 class.
Keon Talgo (6'1"/G-W/2024/AZ Select Black)- Talgo is one of the more effective players you will catch at this age group. Doesn't do it with a ton of bounce or athleticism but put his imprint on the game in so many ways. He attacks the rim with purpose and can knock it down from the outside. Usually the first kid to hit the ground for the ball and a true competitor. Rebounds on both ends of the floor. Talgo will be heading to Gilbert Christian next season.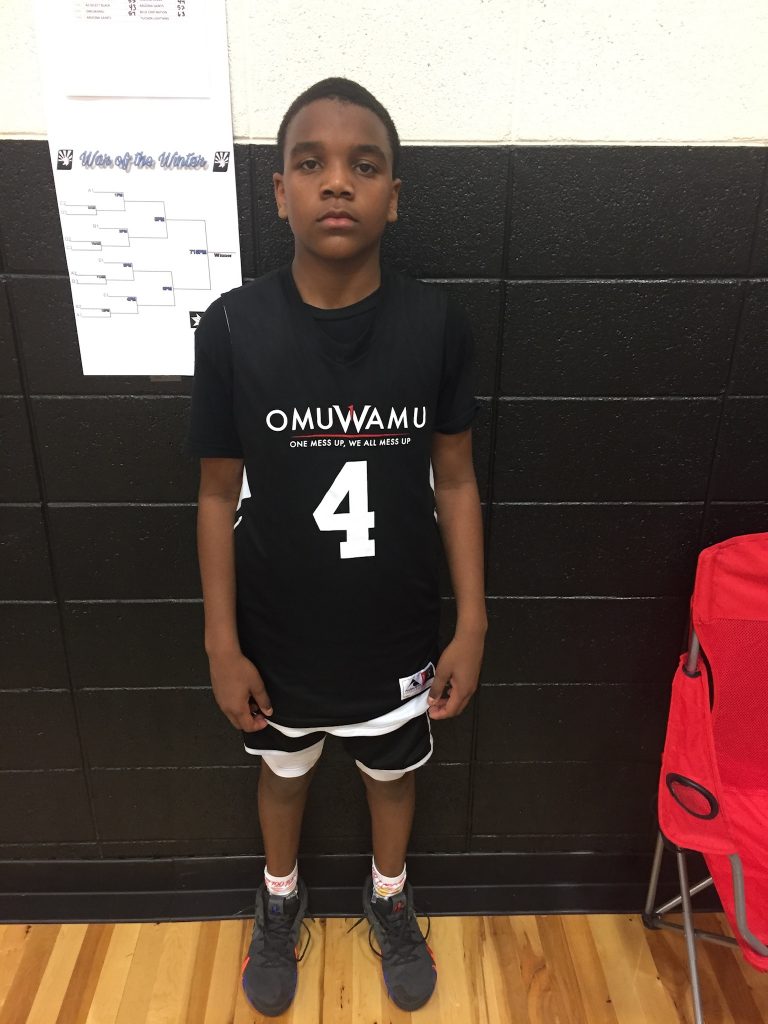 Archie Graves (5'5"/PG/2024/OmuWamu)- Graves is a showtime type of point guard with a very nice handle and a flat out competitor. The boy can flat-out play. A true point guard that makes everyone on the floor better. Will need to learn how to finish around the rim better but that will come with time, as he will have to learn how to maneuver being that he is an undersized guard. But you know he is a gym rat. Was often the first player in the gym for his team and the last player to leave and sat courtside watching, even when he was not playing. I am a true fan of this kid who performs at a high level on both ends. I have a feeling his name will be a popular one moving forward.
Ezias Steffens (6'2"/W/2024/OmuWamu)- This kid has some of the best upside I saw all weekend with a great combination of length, size and agility. He is coming into his athleticism and bounce and already possesses a nice handle and stroke from the outside. I would like to see more from him on the defensive end, where he gets lazy at times. He could have an extremely bright future if he puts in the work.
EJ Mills (5'7"/G/2024/OmuWamu)- I can't put a grasp on where this kid will end up as a prospect but at this age, this kid can flat out play. Moves extremely well laterally and vertically. Has a nice bounce to his step and defends at a high level, especially at creating turnovers by attacking the passing lanes. Can knock it down from 3 and finishes well in transition.
Cohen Ferguson (5'11"/CG/2024/AZ Kings)- Ferguson plays with a high level IQ for his age and plays a very fundamental, efficient game. A dream come true for the system Head Coach Doug Harris runs at Hamilton, where Ferguson could be heading to next season. Kid is tough as nails and can put the ball in the hoop. He is the team's go-to scorer when they need a bucket but does a good job of not forcing too much.
Dylan Lee (5'11/SG/2024/AZ Kings)- Lee has some good length for his age and can really knock it down from the outside. The Hamilton Huskies are going to be getting a very smart knock-down outside threat next season and if the kid continues to grow, we might have a specialist in the making…
Mitsu Navarro (6'0"/W/2024/AZ Kings)- A wing with some good size and a nice touch in the paint. Has the ability to knock it down from mid-range and 3-point territory and has a beautiful floater that he knocks down probably somewhere around an 80% clip when he takes it. Also very active on the boards and plays with real effort.
Harvey Sayon (6'0"/G-W/2024/Tucson Lightning)- A young, athletic slasher that runs the floor as good as anyone I saw this weekend. Very active on both ends. You can tell he is still learning the tendencies of the game but the more he learns, the better he will get. Kid just attacks! Fearless penetrator, especially in transition and looks like he could very well be an above-the-rim type of player. Sayon will be heading to Catalina Foothills next season.
Aidan Teasley (5'10"/G/2024/Tucson Lightning)- Teasley is a competitor. A kid who seems to love to compete and is tough as nails. Very fundamental and a leader on the floor. Can knock it down from three and has a good looking corner-3 stroke. Plays with a ton of effort and is not afraid to mix it up with anyone.
Ciasen Fuller (5'9"/CG/2024/Tucson Select Spartans)- A very solid lead guard that isn't afraid to attack any defender in front of him. Possesses a very tight handle and is a really good playmaker with the ball in his hands. Really flourishes in the open floor. Needs to put some time in the gym to become a real threat from the outside to keep defenders honest when they start to understand how to guard him. That should come with time as the kid seems like the gym-rat type.
Quinton Ragland (5'11"/Wing/2024/Tucson Select Spartans)- Ragland is still very raw but has a ton of upside. Has some real length and already does all the little things very well. Rebounds, blocks shots, defends and hustles. If he commits himself to developing, he could develop into a real player.
Treyvion Curry (5'5"/PG/2024/AZ Select White)- Curry is an undersized guard but man can this makes some things happen. Has a very good handle and just drops dimes. He will give u a great pass every two or three times down the floor and the kid puts a ton of pressure on the defense with the way he attacks it with the ball in his hands.
Alexander Clontz (6'0"/F/2024/AZ Select White)- A very strong rebounder and finisher in the paint. Plays with a "rough rider" mentality and can knock it down from the outside. Does all the little things and sets very strong screens. If he lands in a system that runs pick-and-rolls on a regular basis, he could be a huge factor in that system.
Presley Ebeh (6'3"/W-F/2024/AZ Swish)- Ibeh is a very tough and aggressive wing forward that can really do some things on the floor. He is long and has great hands and runs the floor extremely well. You can see him starting to tap into his athleticism, which could end up being his biggest asset. He will receive some great coaching at the next level for 4 years, as he is heading to Ironwood to play for Head Coach Jordan Augustine.
Dayleon Howard (5'10"/G/2024/AZ Swish)- Howard is developing into a crafty little guard. He has the mental part of the game down and has a nice mid-range shot off the dribble. A solid decision maker that goes stretches of being a really good playmaker. You have a feeling his best years of basketball are ahead of him.