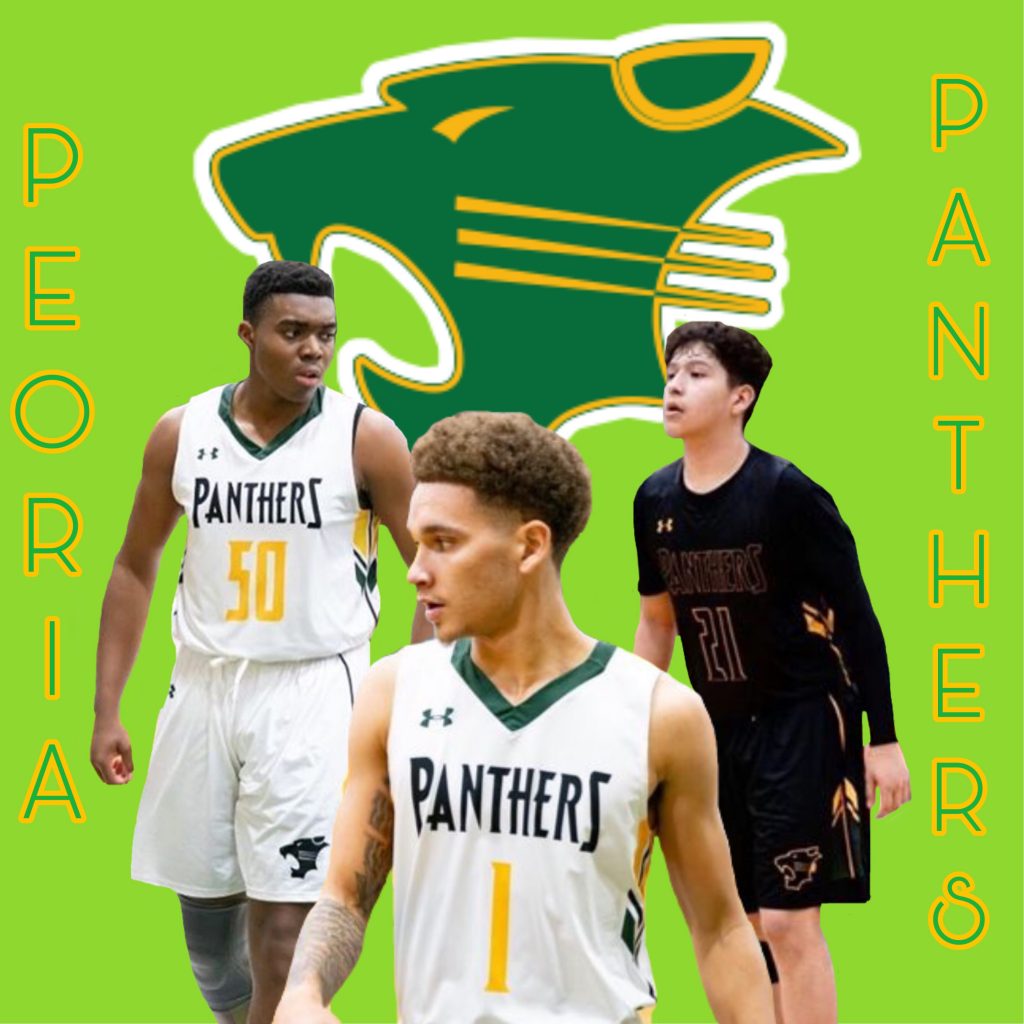 PEORIA PANTHERS ARE ON A MISSION!
The scene was set on Tuesday night between the Saint Mary's Knights, one of the richest in tradition basketball programs in the state, and the Peoria Panthers, the school on the west side that is not always mentioned amongst the state's "elite". There was word spread wide that the gym would reach capacity at least an hour before game time with tickets being sold out online and that the line for ticket sales outside would be stretching around the parking lot. There was no exaggeration in those statements.
Both programs student sections went back and forth with 75 mins left til tip-off, verbally jabbing each other with one-liners. It was one of the better high school basketball pre-game entertainment shows I have ever seen.
Then the tip-off happen and Peoria came out swinging… and never stopped! Peoria went into the half leading by 18 after 6'5" junior wing Kevin Kogbara hit a right-handed James Harden-esque step-back 3-pointer to end the half. Kogbara was absolutely amazing in the first half but had to sit on the bench with 2 early fouls. While he was off the floor, senior guard duo 6'0" Isaac Monroe and 5'9" Corey Perry lit it up. 6'0" freshman sharp-shooting guard Andrew Camacho made his presence felt early creating turnovers, taking a charge and knocking down some outside shots. 5'10" senior guard DeAndre Petty was incredible and was all over the floor.
However, even though Peoria was so dominant in the first half, it felt as if everybody in the gym could sense a big St. Mary's run that would get them back in it. After all, they are one of the deepest teams in the state in terms of talent and guys that can flat out get it done. They got the lead cut down to 8 and that was about as close as they would ever get. Kogbara had some stretches where he looked like a pure dominant force and their collection of guards were hitting everything they tossed up. They owned the boards for the most part and created havoc on the defensive end. And just like that, Peoria stunned everyone with a 85-59 win behind one of the better balanced scoring attacks with all five starters pouring in 15-19 points. As a team, they shot 14-for-22 from the 3-point line with Corey Perry going 5/5 from deep. Now the Panthers find themselves locked into a match-up with the 2nd-seeded Salpointe Catholic (Tucson, AZ), led by Harvard-signee Evan Nelson, who has led the Lancers to now three consecutive 4A state title games.
For those who don't get out to the West Valley much or may be just don't know much about the school that sits off of Grand Avenue and Peoria Ave, this team has been building up to this situation and moment for quite some time. It's a team that see's most of them stick together all year-round from the high school season, to spring and summer ball to fall pre-season ball. Though they play in a system that allows them to boogie and get up and down the floor in a hurry, it is ORGANIZED chaos. They have a chemistry and it always seems as if they are completely bought in to the vision of Peoria Panther basketball.
But this road has not been paved smooth…
For undisclosed reasons, Peoria's long-time Head Coach Will Roberts has not been on the bench for the majority of the season. However, while most teams might fold up their chairs and allow the table to fall apart, these kids rallied behind their coaching staff, led by interim Head Coach Patrick Battillo, and held that table up.
Most of these kids are no stranger to a little adversity. It's a school placed in an area where life may not always be easy but you rally and you push thru it to get what it is you want out of life at the present time and for the future. So it's no surprise to the people that sit in that locker room before and after every game that this could be done.
This teams is filled with upper class men, including three senior starters in Monroe, Petty and Perry. Possibly the teams top current prospect is Kogbara. A kid with size that can be such a match-up nightmare against any team. However, it takes him to be at his best and limiting mistakes and turnover for this team to truly reach it's peak. The other member of the starting five is the freshman, Andrew Camacho, who is right up there as far as freshman who made the biggest impact at the varsity level in their rookie season. The kid has knocked down big shot after big shot and has to be toward the top of the list in charges taken this year. What he may lack in athleticism, he makes up for in pure basketball genius for such a young mind. It helps that the kid has a strap that most military snipers would be jealous of. Where Kogbara is the engine to the car, Monroe is the steering wheel. They go where he takes them.
As much as the starting five has done, you will never reach your true pinnacle as a team without the devotion to the team's goals from your bench. And they get that in abundance. Guys like junior guard Tre Bell and Shemar Moore and the rest of the bench that dedicates themselves to making this team battle ready.
So here we are… the Peoria Panthers are heading to the State Championship game at the Arizona Veteran's Memorial Coliseum on Saturday night.