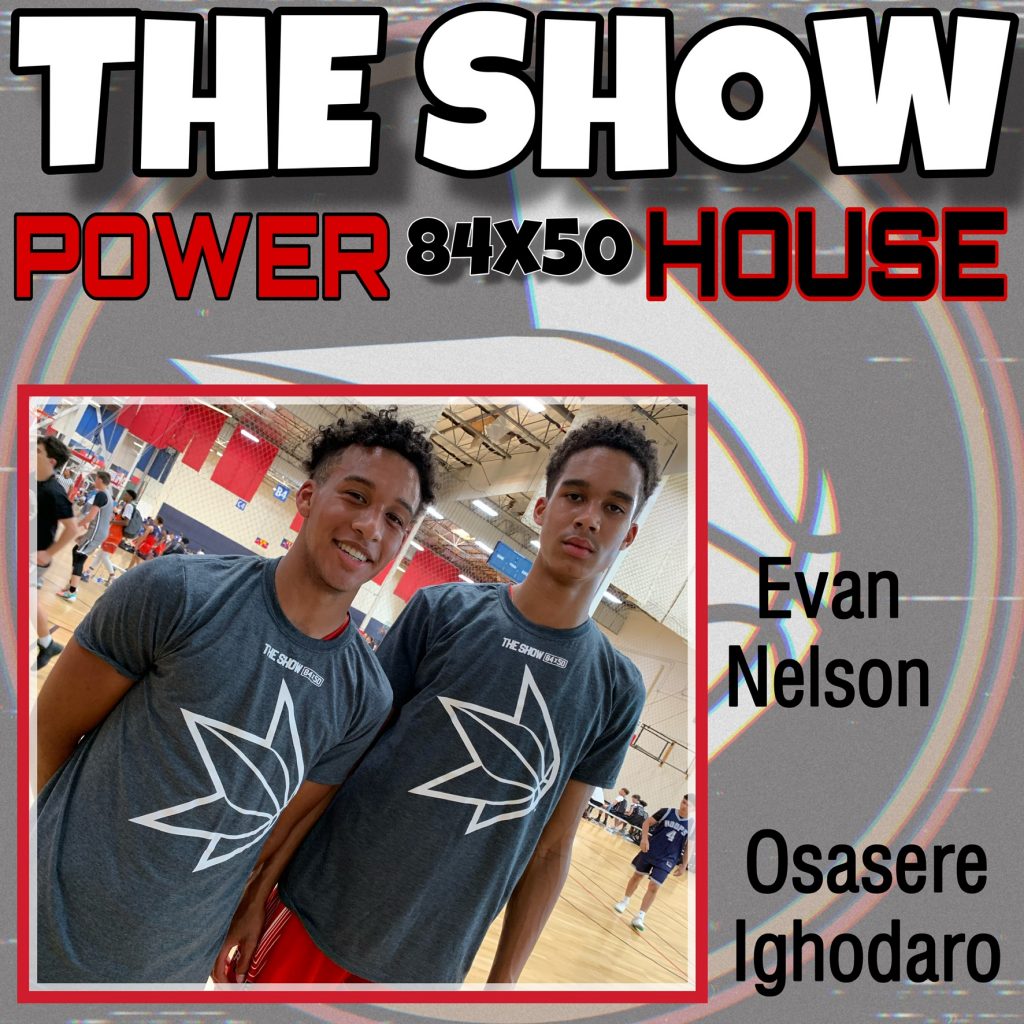 Powerhouse Hoops 17U Rise are a problem. A cohesive group that can attack you and come at you in waves that has a variety of skill sets that can beat you. And a coaching staff that gets the best out of their guys on a nightly basis. A pair of coaches that instill hustle and defense and ball movement and attacking the rim. It is an entertaining brand of basketball to watch. One that players like to play in and spectators like to see. The icing on the cake is that the group truly does get along. There is a genuine love and togetherness in a group that is compiled of some of Arizona's top local high school talent. The squad took to the Under Armour Association Rise circuit in Kansas City this weekend in a 4-game showcase in which they went 4-0 in impressive fashion. Their last game of the weekend was against an impressive Grand Rapids Storm team that featured multiple Division-I prospects and took the game down to the wire. This great blend of talent got the job done late and escaped with a narrow victory, capping off an undefeated showing.
Coach John Ortega, as many know, is also the Owner of Powerhouse Hoops. But his willingness to let his players play and simplify things to get the best out of his best players is what makes this team so intriguing and easy on the eyes. Coach Kirk Fauske just came off of a high school season coaching one of the top teams in the state, the Mountain Pointe Pride. He is a passionate coach with a boisterous demeanor and personality. On this team, he runs the defensive schemes and is the large man standing on the sideline yelling and encouraging his team to the point that you feel like you may just want to grab a jersey and check into the game from the stands. Their third "coach" is Coach Fauske's 11-year old son who probably studies and knows more basketball than me or anyone reading this. He has become a staple for this team and almost a mascot. The fact that he probably has a better 3-point stroke than 75% of a team full of Division-I prospects will be a top for another day in about three or four years.
6-foot-9 2020 point forward from Desert Vista High, Osasere Ighodaro, is one of the hottest prospects and stock risers on the West Coast. A Swiss-Army Knife of a forward that just gives you a little bit of everything. While he came out of last summer with several Division-I offers, the quality and level of those offers have reached a new high. Stanford was the first to extend a high major offer, as his 4.6 GPA stands out about as much as the fact that he is so long and athletic while being an elite level defender and distributor. With the arrival of legendary Arizona coach, David Grace, to the Vanderbilt coaching staff, he received his second offer to the "Stanford of the South," as Coach Grace and new Head Coach and former-NBA star Jerry Stackhouse flew out to Arizona to see him personally. He has now began to receive heavy interest from a long list of high major schools.
6-foot-2 2020 point guard Evan Nelson out of Salpointe Catholic in Tucson is playing about as good as any point guard on the West Coast right now. His name held a buzz at the Hyvee Arena in Kansas City over the weekend and brought out schools from all different levels from mid to high majors. The lightning quick and shifty lead guard went into the weekend holding 11 Division-I offers with the latest being the new coaching staff at Nevada, but you can bet the last dollar in the bank that number will increase in the next few weeks. In the four games he played he gave you a little bit of everything. He showcased his blur-like speed, ability to shake off defenders off the dribble and create his own shot. He found teammates with sweet passes and frustrated defenders with the nice pull-up jumper he holds in his pocket while the oppositions pockets often got picked. Nelson is one of the better on ball defenders that can pick up for 94-feet that you will find. A true pest of a defender that takes pride in turning ball-handlers and throwing them off their offensive rhythm.
6-foot-7 2020 power forward DeAndre Henry out of Mountain Pointe High is very used to the intensity that Coach Fauske demands out of his players. The bulldog of a forward has been coached by him at Mountain Pointe for the last two years. The comfortability in the scheme shows as Henry is usually the one cleaning up his teammates occasional defensive mistakes. While he is a Mack Truck in the paint, he has some sneaky athleticism and a 6'9 wingspan that allows him to be a good shot blocker. In addition, he just might be one of the premier rebounders on the west coast. And it is more than just his wingspan and bulk. He has an impressive ability to read the ball of the rim and go up to get it. His positioning down low is impressive and his motor has more than a few energizer batteries in it. His most underrated skill is his passing. He slows down the movements and finds open cutters and shooters as well as you can ask for and is very unselfish when there is a play to be made. He walked into the weekend with offers from South Dakota and Northern Arizona. He is another stock riser on this team.
6-foot-3 2020 guard Alem Husenevich has one of the most impressive strokes you will find. He gets it off so fast and is almost effortless in the release. It is truly a thing a beauty to watch him shoot the ball. And he keeps defenders honest with over-pursuing on close-outs because he is willing and capable of taking the ball toward the rim. He is a pretty good finisher and transition and can go on some serious scoring stretches. I would like to see him play within the offense more and pull back when an open lane isn't there, as he can get a little shot happy at times. But overall, he had a great showing in front of numerous college coaches. Numerous low to mid majors enquirer about the sharpshooting Bosnian guard.
6-foot-4 2020 guard Kiimani Holt can be one of the more explosive and bouncier athletes when he chooses to be. He is an aggressive guard with a good body that can really get to the rim with ease. Though I would like to see him add a more consistently used side or euro-step to avoid getting called for charges. He showcased his ability to get to his spot around the free-throw line extended and knock it down off the dribble. Finding some range no that shot would be huge. Though he has the occasional tendency to raise up when playing on-ball defense, he can wreak havoc on that end of the floor and thrives off of getting out in transition. He currently holds 6 Division-I offers to a variety of mid-majors. I would guess a few more mid-majors will come his way shortly.
6-foot-7 2020 wing Logan Phillips is really intriguing. His slight build can be a cause for concern for some but the kid can flat out get it done. His length on the defensive end really stands out. He is a really good creator with the ball In his hands and can knock down the outside shot. He also has the ability to penetrate in the flow of the offense but I would love to see him do it more often. He currently holds a D-I offer to Incarnate Word and could wake up a few more low to mid majors with the amount of upside and work ethic he possesses.
6-foot-2 2020 guard Brycen Long had some hot shooting stretches that was impressive. He can really stroke it from 12-feet and out. While his 3-point shooting ability is his bread and butter, he has a really nice pull up on the perimeter off the bounce. While he might struggle at times on the defensive end with quicker guards, his high IQ allows him to recover well and he is a very good team defender. He is one of those kids that truly gets the best out of his abilities. He currently holds one DI offer to Houston Baptist.
This team had three players that were fresh to getting back on the court. 6-foot-1 2020 guard Tay Boothman from Buckeye Union seen his first action on the court in the last couple months after shoulder surgery and you could see the rust draping all over the sharp shooting guard. After two games of not feeling quite right, he shut it down for the weekend and will try to get right over the next week. Boothman lit it up for this same team all spring and summer of last year on the 16U trail and picked up four Division-I offers to show for it.
6-foot-7 2020 forward Anthony Garza was returning to the court from concussion protocol after missing almost the entire first eight games. Finding his legs was a challenge early but you could see him gradually get back into it and start to look like the Garza he is most known for. A rabid dog of a forward on both ends of the floor that has pure hustle, determination with a little bit of athleticism in the blood. He currently holds an offer to Air Force and will look to improve his stock moving forward.
6-foot-9 2020 forward/center Hunter Ruck from Rancho Solano Prep returned from a sprained ankle and was not quite right all weekend. However, you could see flashes of what he was capable of with some really impressive plays on the defensive end and super-athletic chase-down blocks. He was reliable, for the most part, on the boards but let a few get over him that he usually is a vacuum for. He struggled on the offensive end with some shots in the paint that he usually gets to go at a pretty high clip. He currently holds three Division-I offers
This group is going to be a very fun group to watch for the remainder of the spring and into July as they continue their tournament trail. I am expecting a whole lot of offers to be tossed over to this roster. It is a very recruitable bunch that should all qualify academically. The fact that over half of the roster holds a GPA over 3.5 is nothing short of impressive. Add in the fact that they play a style that college coaches enjoy seeing and can stay in-tune for a whole game to evaluate makes it a very easy accomplishment.